Manure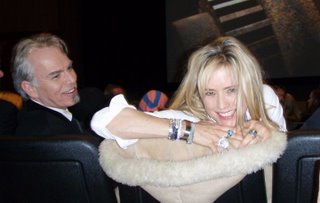 2009 Sundance Film Festival ★ ★
Anyone that has seen a movie by Mark and Michael Polish should come to expect something unusual. Their latest film, Manure, delivers in spades (yeah, that was a pun). Actually, this movie might best be seen under the influence of drugs. Being straight and sober, I'm not sure I appreciated it. Or understood it. Or perhaps I fell asleep and dreamt this.
Starring Billy Bob Thornton and Tea Leoni, the story is about a woman living in New York (Rosemary Rose) who inherits her father's manure company after his untimely passing. Thornton is the lead salesman (Patrick Kirkpatrick). Together they try to save the company from bankruptcy. That's the sane part.
Here's the silly stuff: Unfortunately, making Rose Manure profitable involves selling a lot of s___ (only one of maybe 200 excrement jokes and puns in the movie). And there's no better bulls____ than Patrick (they never stop).
No, no, that was the sane part. This is what's zany: Turns out there's new competition in the form of a chemical fertilizer company entering the market, actually by parachuting in countless crates of chemical fertilizers as well as black-suited salesmen who land carrying briefcases.
Hold it, that's still pretty tame compared to the psychedelic mushrooms they eat which causes them to vomit voluminously onto one another and hallucinate, or dressing up the Rose salesmen as Indians to burn at the stake, or the 44 Triple-D breasts one of the salesmen grows when he eats some fertilizer. And there's plenty more where that came from.
The plot is as silly as you can imagine, and like all the acting (except Thornton), way over the top. The sets typically include backdrops, with everything (EVERYTHING) in various shades of brown. You could not conceive of a more ridiculous movie. Which would be perfect if you were in the right mood (know what I mean?). But passing joints is not allowed at Sundance screenings, so most of the crowd was left shaking their heads and wondering what it was they just witnessed.
Notes from Sundance
The cast was all present on opening night. Thornton and Leoni were sitting right in front of me. They were both very gracious with fans, allowing their photos to be taken and being great sports. After the movie, Thornton was very funny and clever. But the Q&A quickly fizzled. The audience was too shell-shocked to think of intelligent questions. And no one had the audacity to ask Mark and Michael Polish what was on everyone's mind: "What the heck were you guys thinking?!!!"
Labels: Billy Bob Thornton, Polish Brothers, Tea Leoni